HOLLYWOOD REPORTER REVIEW: ASK THE DUST
Feb. 03, 2006
By Sheri Linden
Screened
Santa Barbara International Film Festival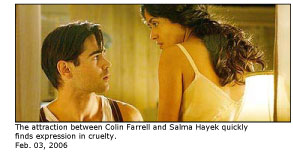 SANTA BARBARA, Calif. -- Much admired by Charles Bukowski and occupying a hallowed place in the literature of Los Angeles, John Fante's slender 1939 novel "Ask the Dust" pulses with the bruised but hopeful poetry of outsiders' yearnings. The love-hate romance at its center involves not only the tug of war between writer Arturo Bandini and waitress Camilla Lopez but the tension between WASP America and the rest of us, self-realization and shame, the skyward-reaching city and the wild natural continent.
Screenwriter Robert Towne, a great chronicler of Los Angeles in "Chinatown" and "Shampoo," would seem the perfect big-screen translator of the influential book, here taking the helm as well as scripting. To an extent he is, but Towne also inexplicably softens the story's noir edge, lapsing into melodrama and hammering at his themes instead of delving deeper into his characters. Despite what are likely to be mixed reviews, the project's literary/cinematic pedigree and topliners Colin Farrell and Salma Hayek will be certain lures when the film opens March 10 in limited release, after its world premiere at the Santa Barbara fest.
Towne's fourth directorial outing is an exceptionally handsome evocation of 1930s Los Angeles (shot in South Africa), with cinematographer Caleb Deschanel ("The Passion of the Christ") casting the proceedings in a burnished desert glow, a dreamy grit like the Mojave sand that permeates the city streets. The film is faithful to the book's tone of dark ache and much of its detail and for the most part terrifically cast. But Towne can't overcome an essential challenge of the material: Arturo and Camilla are constructs and ciphers as much as they are vivid characters -- difficult roles, to be sure. Neither the screenplay nor the actors manage to get far under their skin.
The story opens as Arturo Bandini (Farrell), subsisting on oranges and cigarettes and six weeks in arrears on his $4-aweek rent, ponders what to do with his last nickel. It has been five months since the good-looking young man arrived in L.A. from Colorado, with high hopes, an Underwood and a suitcase full of copies of his one published story. Determined to be a great writer of fiction, he rents a furnished room at the Alta Loma, a residential hotel built against the slope of Bunker Hill.
Arturo meets Mexican beauty Camilla when she's waiting tables at the Columbia Cafe, the downtown establishment where he spends that last nickel on an a cup of undrinkable joe. Their attraction quickly finds expression in cruelty. With a pointed stare at the huaraches in which Camilla glides about the dining room, Arturo takes great pleasure in shaking her out of her haughty self-confidence, arousing her shame about not being a "real" American. A pas de deux of one-upmanship begins, each expertly finding the other's sore spots -- easy to do when their insecurities are nearly identical. In the unenlightened parlance of the day, Camilla and Italian-American Arturo are both "spicks," a point Towne's script stresses repeatedly. It also adds an excruciating bit of business in which Arturo teaches Camilla to read English.
Towne's grasp of the story's existential core is shaky, but he turns the story's central romantic episode into a piece of exquisite cinema: Arturo and Camilla rushing naked into the moonlit Santa Monica surf, their exultation quickly turning to angry tussling. With haunting imagery, Deschanel captures the beauty of the two leads, tossed by the silver waves.
Farrell puts across the conflicted, virginal Catholic boy beneath the swagger, pretending to be worldly while fearfully resisting the more experienced Camilla's bold overtures. The film doesn't shy away from the ugliness of their strange courtship, but their games grow tiresome and never accrue much emotional weight. Losing steam in stretches of flat melodrama, the film lapses into bathos, nearly veering into "Love Story" territory.
Playing a character quite a bit younger than herself, Hayek has never looked more beautiful, and Camilla's tempestuous spirit finds full expression in her performance. Still, the sense of who Camilla is doesn't deepen as the story progresses. For his part, Farrell often struggles to indicate anything beyond observer Arturo's surface reactions, and the character remains opaque, even in a disturbing interlude with Vera Rivkin. Idina Menzel ("Rent") is heartbreaking as the wounded soul who sweeps into Arturo's room like a Santa Ana, all devouring gaze.
There are plenty of tantalizing performances at the edges of the narrative, especially the wonderful, pitch-perfect work by Donald Sutherland (who starred 30 years ago in the film adaptation of another revered L.A. novel, "Day of the Locust"), playing Arturo's dissolute neighbor Hellfrick. Eileen Atkins contributes a nuanced cameo as the landlady with a distaste for Mexicans and Jews, and Jeremy Crutchley makes an impression as informative barkeep Solomon. Providing the amused, avuncular voice of real-life American Mercury editor H.L. Mencken, Arturo's benefactor and deity, is reallife critic Richard Schickel.
Towne and Deschanel never lose sight of Los Angeles as a naive, impermanent interloper, most dramatically in an earthquake sequence full of buckling pavement and crumbling buildings. The South African landscape is an evocative if not an accurate substitute (there's nary a Joshua tree in sight). Dennis Gassner's production design and Albert Wolsky's costumes re-create the period with fittingly subdued detail, as does the music of Ramin Djawadi and Heitor Pereira.
ASK THE DUST
Paramount Classics in association with Capitol Films a Cruise/Wagner, VIP Medienfonds 3, Ascendant production

Credits:
Director-screenwriter: Robert Towne
Based on the novel by: John Fante
Producers: Tom Cruise, Paula Wagner, Don Granger, Jonas McCord
Executive producers: Redmond Morris, Mark Roemmich, David Selvan, Andreas Schmid, Andy Grosch, Chris Roberts
Director of photography: Caleb Deschanel
Production designer: Dennis Gassner Music: Ramin Djawadi, Heitor Pereira
Co-producers: Galit Hakmon McCord, Kia Jam, Andreas Schmid
Costume designer: Albert Wolsky Editor: Robert K. Lambert

Cast:
Arturo Bandini: Colin Farrell
Camilla Lopez: Salma Hayek
Hellfrick: Donald Sutherland
Eileen Atkins
Vera Rivkin: Idina Menzel
Sammy: Justin Kirk
Solomon: Jeremy Crutchley
Voice of Mencken: Richard Schickel
MPAA rating R
Running time --117 minutes Page 2 of 3 Ask the Dust